SAVE THESE DATES!
July 28, 29, 30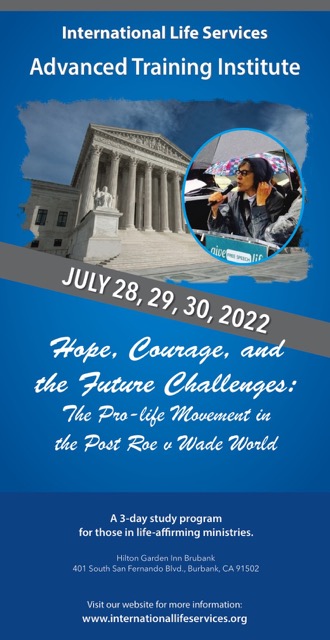 This year's 37th Annual Advanced Training Institute will be held at the Hilton Garden Inn—just ten minutes from the Burbank (Bob Hope) Airport. Our speakers, in spite of being notified late, want to be here in memory of Sister Paula. Note that these July dates will be after the Supreme Court's June decision on Dobbs v. Jackson Women's Health Organization. Our keynote speaker will be Thomas Glessner, J.D. You won't want to miss this one!
This year's ATI promises to be a memorable event. Our theme, Hope, Courage, and the Future Challenges in a Post Roe v Wade World , will cover a variety of pro-life issues. Join us. There's work to be done.
See you there!
Hilton Garden Inn - Burbank, California

The Advanced Training Institute 2022 is being held at the Hilton Garden Inn.
Hotel rooms are available for ATI participants on a first come, first serve basis at a reduced rate of $199.00 plus tax per night.
Make your room reservations ASAP as our block of discounted rooms often sells out quickly.
Book by phone: 1-818-509-7964
To receive special room rate tell them you are with
International Life Services Advanced Training Institute
Transportation and Parking
The Hilton Garden Inn provides 24 hour free parking for their guests. If you are arriving from Burbank Airport you will need to call Uber or take the airport shuttle.
Registration Options and Fees:
Registration Fee Includes: In-depth Single Day Training, Continental Breakfast, Lunch, Afternoon Break and ATI Student Notebook.
$115.00 for NON-ILS MEMBERS: Daily Registration Fee Per Person/Per Day
$100.00 for ILS MEMBERS: Daily Registration Fee Per Person/Per Day
Late Registration: Registration at the door for all registrants is $120.00 per day, per person.
Registration Links:
To Register and Pay Online -
REGISTER HERE
Note: There are two steps to follow when registering online. Step One - fill out the general information form and Step Two - pay online using a credit card. Remember that your registration is not final until your online payment has been made.

To Register and Pay by Mail -

PRINT REGISTRATION HERE
and send, along with payment, to:
International Life Services
2606 1/2 West 8th Street
Los Angeles, CA 90057
Make checks payable to International Life Services.
Confirmation: Your canceled check or your Paypal notification is your confirmation of payment.
Have a question? Call 213-382-2156.
---